Inov-8 Bare-X 180 Minimalist Shoes Look Good
I was browsing Wiggle the other day and happened across these rather attractive looking, from an aesthetic and spec perspective, minimalist running shoes from Inov-8...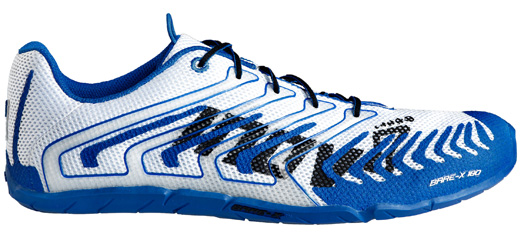 These are the Inov-8 Bare-X 180 shoes (here on Wiggle), and they're a minimalist shoe with a zero-drop, no insole and only 3mm worth of rubber between your feet and the ground below. This is about the same as the Vibram Five Finger Bikilas I currently race in.
Given they're currently cheaper than the Vibram Five Finger Bikilas, I'm going to definitely consider these when my VFF wear through, which I don't think will be too long now. I just want to try the Inov-8s on first to see how much space there is in the toebox.
Update: I tried these on and they are not for me. They make my feet look like boats, but more importantly, due to the plasticky stuff over the fabric around the edges and over the foot, they crease right over my big toes and thus rub. This will lead to blisters for me. This is the same issue the first release of the Vivobarefoot Evos had. Guess I'll be sticking to the Vibrams for the moment.