My Wife Has Just Walked/Run Her First 5K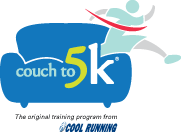 My wife is doing a 5k fun run with a group of colleagues to raise a bit of money for charity. She's not a runner so in order to get her prepared for it we're following the Cool Running Couch-to-5K programme. This is a great little programme which slowly builds you to running a whole 5k which I think is perfect for my wife. I also quite like to get to play coach and add in an additional run several times a week.
So a couple of weeks ago we set off and things started quite well. My wife is nowhere near as unfit as she thought, though she's also nowhere near fit enough to run a full 5k. As a result we've actually been doing slightly more in terms of distance per session than the training programme suggests. Things were going well for the first week and a half and then she got one heck of a headcold and suspected ear infection so the running stopped. We then picked things up again yesterday and had a nice gentle run. Today we went out again and I thought I'd be a little cheeky and change things slightly and see how she coped.
We're meant to be doing the third day of week two: Brisk five-minute warmup walk. Then alternate 90 seconds of jogging and two minutes of walking for a total of 20 minutes. but as yesterday went so well and as we've been doing a bit more than the programme suggests (yesterday was 38mins of 90sec run, 2min walk), I upped the running intervals to two minutes each and kept the walking intervals at two minutes each. I also cunningly devised a nice mostly offroad route that was just short of 5k.
Well, I'm pleased to say keeping the conversation going really helped and I think she noticed less of today's run than yesterday. We got back home midway through a running interval so ran back and forth up and down the road until the last two minutes were up.
The result: my wife walked/run 5k on the nose in a time of 43:35 without even knowing it and coped really well. I'm chuffed she's finally hit the 5k mark. Now she just needs to work on running the whole way and she'll breeze through her charity run.
This afternoon's little saunter made a great little pre-race warm-up for tomorrow. I'm feeling great and rested and am really looking forward to tomorrow's race... my first marathon in over 14 years. The weather's looking good too so it should be a good day out.