Race Report: Abingdon Marathon 2013
Earlier this year I took my first stab at a sub-3 hour marathon at the Milton Keynes marathon and completely misjudged things and in retrospect probably my abilities at the time, and completely blew it. On Sunday I took another stab at that elusive sub-3 marathon mark in my third ever marathon, the Abingdon Marathon, and smashed it out of the ballpark.
Following my disappointing run at the Milton Keynes marathon I decided I was going to create a properly structured training programme that would guide me to a great marathon time. After a little bit of research and reading I stumbled upon Marathoning The Hansons' Way. Intrigued by this approach and the relative simplicity (compared to The Daniels Runner Formula), I purchased their book - Hansons Marathon Method - in Kindle format, read it, and devised my four month training programme. This ended up being a great programme which I'll cover that in another post.
My Performance
With lots of good hard training in my legs (over 1200km worth) I hit the road Sunday morning with two goals in mind: an absolute "I must get under 3 hours" goal and a "it would be brilliant if I got under 2 hours 55 mins too" goal. Being the optimist that I am, and given my top form this season, I went out aiming for 2h55m from the gun with the idea that I'll have 5 mins to spare if I over-cook things (not likely) and if I still have something in my legs at the end, I could go faster. A little bit of pre-calculation determined I'd need to average 4:08/km for 2h55m and just over 4:15/km for 2h:59m:59s so I aimed for 4:08/km, give or take a few seconds due to bunching, hills, water tables and turns for the first half. This worked well and I actually found it quite hard to hold back at the beginning. It was so tempting to go out with the tide of over-eager people, but I remained strong and held back knowing that the tide would soon turn and I'd be the one doing all the overtaking.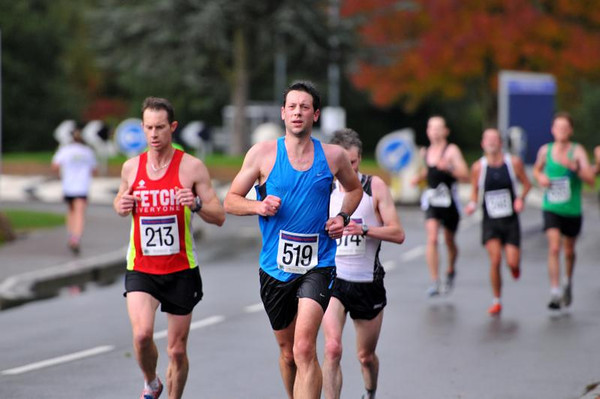 I did a pretty good job of holding back and soon got into a good groove just a little quicker than 4:08/km which saw me through halfway a little ahead of schedule. Had I stuck to 4:08/km, I'd have gone through halfway in about 1h27m12s. I went through halfway in 1h26m51s, so pretty close to schedule. Knowing I was pretty much on schedule I decided I didn't need to hold back quite so much, so I went with what felt good and stopped concentrating too hard on my pace. By this time the tide had turned and I was slowly passing people and working my way back up the field and as I got closer to the end, I found the tide was coming in at a rapid rate of knots; I was catching and passing people at quite a clip. I'd see them ahead of me and without too much effort, they'd soon be behind me and I'd have my eyes set on the next pair of heels ahead of me. This worked well to keep me occupied during the second lap of the race in which I ended up continuing at about 4:08/km with my one and only sub-4 minute kilometre at 35km (3:42!! what was I thinking?) and a few kilometres around 4:20/km on the little hills (they felt way bigger than they really were) in the last 4 kilometres.
I ended up smashing my previous PB of 3h22m40s set at Milton Keynes by nearly 30 minutes and crossed the line in a gun time of 2h53:58s and a chip time (the one that counts 😉) of 2h53:50s in 27th place (out of 703 finishers). I didn't quite achieve a negative split, but I was pretty close with 1h26m51s and 1h26m59s. I blame the slight hill in the last 4km for this 😀
To say I'm chuffed is an understatement. I'm over the moon. On the way back to the car I said to my wife that I don't think I'm cut out for marathons as I was feeling knackered, on the verge of cramping and with a tight knot for a stomach but now I've had a few days to recover - I've recovered surprisingly quickly - I think maybe I am cut out for these marathons; I just need a bit more practice. After all, this is only my 3rd marathon and only my fourth race of a 42.2km or more.
The Race
The race itself is a very well organised affair with loads of support, adequate water tables and plenty marshals on route. Talking of the route, this race is rated by Runner's World readers as the best race for PB potential and I agree as this is a relatively flat course with an ever-so slight downward trend in the first 5km and a slight upward trend in the last 4km with a little "bump" at about 11km and 26km. That said, I think a few changes to the route could make it even quicker 🙂 Between the 5th and 6th kilometre markers you come off the roads and run along a rather narrow path. This is quite a bottleneck this early in the race and this year proved to be rather muddy too. The last kilometre is along the winding footpath within Tilsley Park just before you enter the stadium for your last 300m on the tartan track. This is quite tough on the old legs at the end of a marathon. Oh, and they really need to get the council to come along and temporarily remove the barriers at the entrance to the path between North Quay and Andersey Way; this really breaks your stride as it's a very narrow gap, barely wider than shoulder width, that requires a fair degree of maneuvering to get through.
Other than that, a very good race. It's not surprising this one is so popular and the choice for several country championships.
Other Stuff
A few more incidentals, more for my own records than anything else.
I ran in: a pair of Inov-8 Road X-treme 138. These are now my favourite long run and racing flat. They're incredibly light (UK8 = 138g), very flexible, offer very little in the way of cushioning, are flat with no heel drop and best off all, they don't rub between my toes on long runs and in races like Vibram Five Fingers do. I'm going to write a post about these soon. I still love VFFs, just not racing or running too long in them.
As for nutrition: all LCHF though slightly higher carb than usual as I still need some carbs in my muscles to run a marathon. My carb of choice is the sweet potato as it has a much lower GI than regular potatoes, none of the nasties of regular potatoes and it's obviously gluten free.
Pre-race dinner: a rather large faggot from the Lockey Farm shop with sweet potato, coconut and chilli mash and roast carrots enjoyed with two small bottles of beer.
Pre-race breakfast: a bulletproof coffee, a heaped teaspoon of almond butter, a small portion of fruit salad made up of pineapple and honeydew melon and about 4 tablespoons of leftover sweet potato mash, all consumed before 7am. I like to ensure all my eating is done at least 2 hours before the start of the race.
Race supplementation and hydration: water and a single homemade "gel" at 28km, though in retrospect I probably didn't need this. It was more of a "just in case" thing. The "gel" was 1 teaspoon almond butter mixed with 1 teaspoon of coconut oil left in the fridge overnight and then warmed in my back pocket until consumed.
Summary
As Hannibal Smith from the A-Team used to say...
I love it when a plan comes together.
My training, diet, race plan, kit, hydration and nutrition all fell into place perfectly on the day when it counted leading to one of my most enjoyable and best performances ever.